OUR NEW WEBSITE IS UP AND RUNNING. CHECK IT OUT AT WWW.BANDGTRAILERS.COM
LOCATION: B & G TRAILER SALES is located on NYS Route 34B (PERUVILLE ROAD), 1 mile west of the intersection of Route 38 and Route 34B on the line between the Towns of Dryden and Groton in Tompkins County, New York. The street address is 1215 Peruville Road(usually comes up as Peru South Lansing Road on www.mapquest.com), Groton, New York 13073.
Please feel free to call for directions from your place to ours.
TRADES ARE ACCEPTED
FINANCING IS AVAILABLE TO QUALIFIED BUYERS
HOURS
Our hours are a bit unusual, but at the same time convenient for our customers. Basically, we are open for business whenever we are here. We are open by chance or by appointment. We try to be here Monday through Thursday evenings from about 4:45 on, 4:45-6:00 on Fridays; 7:00 - 2:00 on Saturdays. We are closed on Sundays. Although we try to be available as much as possible, we sometimes have things to do and places to go, so it is always a good idea to call before coming out to be sure we'll be here to meet you. We have been known to meet customers as early as 5:00 a.m. and as late as 10:30 p.m. We'll get up and meet you at 2:00 a.m. if that's what it takes to help you find the trailer you're looking for.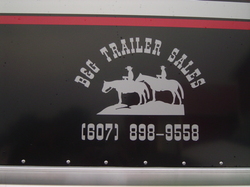 HOW TO REACH US
Phone: 607-898-9558
BGTRLRSALE@AOL.COM
P.O. Box 749, Dryden, NY 13053.
If we don't answer the phone, please leave a message, and we will get back to you.
BGTrlrSale@aol.com